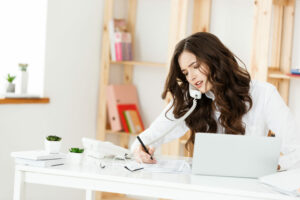 3 Ways Outsourced Cold Calling Targets An Ideal Customer Profile
Cold calling services aren't a thing of the past – there are thousands of people out there with the ideal customer profile for your product or service, and they're waiting for the phone to ring. But there's no reason to sugar coat it: this process is long and hard, and when you're putting your best salespeople on the phone to generate leads rather than close deals, your sales pipeline will be disbalanced.
Think of sales like a manufacturing line. These kinds of businesses run on efficiency – to operate smoothly, a steady flow of product needs to be coming at all times. You need your best workers operating the parts that make the money. Too often, experienced salespeople are placed in roles they are overqualified for, when they should be closing deals.
When you outsource cold calling services, a steady supply of pre-qualified leads that target an ideal buyer persona can go to the people best suited to close deals. More, this supply of leads should be able to scale quickly. What are three ways these services help even out the pipeline?
Finding the Needle in the Haystack
Let's say you just bought a list of 5000 leads, and need to get as many closes as possible from them. How are you going to pursue this?
An experienced sales rep who works at your company could sift through this list and call through hundreds of them a day, but this task is arduous and slow. Their day would be much better spent calling leads that can lead to closes, putting their energy towards what matters: the bottom line.
Finding the Ideal Customer Profile
There's a certain kind of company that is going to benefit the most from your services. You know the best buyer persona better than anyone else does, and you can spend hours picking through leads to get the diamond in the rough.
Why not outsource this? Outsourced BDRs and SDRs are trained to understand your ideal client, find these people to gauge their interest, and deliver them to you. Appointment setting is still just as relevant as ever, even in the "new normal", and continues to bring and nurture success.
The Ideal Customer Profile Leads to Deals
You can't sell to someone who isn't interested in your product or service. Any effort you spend on these people is essentially unproductive.
Using SDR services lets your company aim at the people who are most interested in your product from the start of the call. LeadJen heats cold calls into warm calls, and brings engaged clients right to your office.
Are you looking for an oursourced BDR or outsourced SDR? Contact us today, and we can start the conversation.