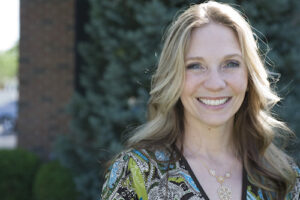 Our Stories – Kim Chastain
"You know when you're sure you know what you want and what is good and right for yourself and you're all whiny and pouty and depressed when your way is just not working out, so you change your prayers from, "Dear God, help me get what I want" to "Dear God, please give me peace of mind to deal with whatever you want for me" and then your cup starts filling up and then overflowing with blessings and you land a cool job you never knew you wanted and you land really cool gigs to teach and choreograph and coach on the side and your weekends fill with new students and you're there to pick up your kids from the school bus and take them to dance class and run forgotten folders to school and be there when they need help with their homework and you get to yell at them to take their showers and go to bed and your heart is so happy and content and grateful that your life is crazy and full, but healthy and balanced and you're afraid to say it out loud or even write it out in a terrible run-on sentence in case you jinx it??? Yeah, me too."
This was a status update I posted on Facebook a couple months ago and this crazy rant of a status received unprecedented attention.  To those of you who don't know me, here is a little background prior to that terrible run-on:
I am a college graduate who was enjoying a career in education when I decided to quit my job to stay home with my children.  For seven years I was a full-time homemaker and did odd jobs from home, partly to have spending money and partly to save my sanity.  Once my youngest reached first grade, I decided it was time to go back to work outside the home.  Except, I didn't really want to go back to work, I just wanted to dance.  Oh, did I mention that I am completely addicted to ballroom and Latin dance?  My husband suggested I teach dance for a living.  So for five years, I studied,  taught, and choreographed dance and I LOVED it.  The daily maintenance of studio life was so very natural for me, that I quickly became manager on top of teaching over 30 lessons a week.  But, the studio hours did not agree with my family life.  Most days, I only saw my kids off to school in the morning and I didn't return home until 11pm.  I was missing too much and I made the very difficult decision to leave my dream job to be there for my family before they were grown and I missed it.
I wish I could tell you that it was an easy change, but it was not.  I had the lofty goal of transitioning seamlessly into teaching dance in my home studio, on my own schedule.  In five months, I was completely depressed and in debt for the first time in my life and decided it was time to look for a "real" job.  That's when a dear friend of mine reached out to me about opportunities at LeadJen and I thought it wouldn't hurt to try.
I accepted a position at LeadJen as a Lead Development Representative (LDR) with the intent that I would learn everything I could about the business and work my way into a management position, where I am most comfortable.  LDRs prospect through outbound cold calls to set qualified sales appointments for business to business.  Now I had worked one summer many moons ago in college as a telemarketer.  I was really good at it… and I hated it.  I felt terrible for what I felt was taking advantage of people who didn't know any better, because I was so good at my job.  I told myself I would never do it again.
Fast forward 19 years later, and I'm on the phones again.  Only this time, it's completely different.  I wasn't surrounded by college kids, I was surrounded by intelligent men and women with business degrees.  I wasn't targeting teenagers who didn't know what was hitting them, I was targeting CEO's, CFO's and other big wig executives of Fortune 500 companies.  And I wasn't selling kids something they probably shouldn't have (i.e. I formerly sold credit cards to high school kids), I was selling state-of-the-art, money saving business solutions that actually do good in the world.  I felt good about what I was learning and accomplishing and the direction in which I was heading.
Seven months of learning the ropes, making dials, and setting my fair share of qualified appointments and I stepped into my current position as Client Account Manager.  I've been with LeadJen since February 2014.  I enjoy flexible hours, excellent co-workers, a challenging and satisfying job which provides nearly twice as much income as I made at my former dream job.  And here's the thing:  Not only am I there for my children when they get off the bus from school and I'm there to see their dance, choir, and school events, but my home business of teaching dance is BOOMING!  I have new students and commissioned dance projects every week.  And guess what?  Without the stress of dance being my sole livelihood, it has made my side business even more fun and fulfilling than ever before!
If my home business had taken off right away as I had planned, I would never have come to work at LeadJen, and that would have been a mistake.  I wouldn't have dreamed that accepting a job at LeadJen would give me the experience, challenge, flexibility and consistency I needed and allow me to find balance and flourish in my family life and my passion of dance.
Interested in joining our team?  Visit our careers page.