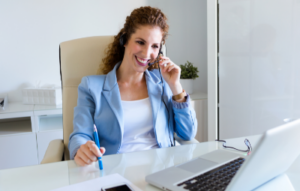 6 Tips for Developing Sales Leads
Since a "sales lead" is defined as any person who is interested in purchasing your product, there's no surprise that developing leads is one of the most important aspects of any sales strategy.
But in today's sales landscape, lead development isn't just about crunching numbers and predicting trends. Sales reps working in a market that prioritizes value-based selling need to focus on adaptability and fostering personal connections with leads.
Here's our list of six tips for developing sales leads in 2021.
Tips for Developing Sales Leads
#1 Understand Your Ideal Customer Profile
First things first, you need to have a clear picture of who your ideal customer is, and what they value about your product. Creating an Ideal Customer Profile (ICP) is the first step in your lead development journey.
An ICP is a fictional person or company that encompasses key components of your ideal buyer. Essentially, an ICP should provide insight into what makes a customer a perfect fit for your company—from budget, to location, to industry. Your ICP will help ground you and focus lead generation by prioritizing your company's unique strengths and ability to solve customer problems.
#2 Create a Sales Funnel
A sales funnel is a roadmap for the entire sales system from start to finish. Your sales funnel should provide an outline of the stages in your sales development system from when you first make contact with a prospect, to closing the deal.
The four basic stages of a sales funnel are:
Awareness – Familiarizing prospects with your company.
Interest – Deepening prospect engagement and answering questions.
Decision – Providing specific information pertaining to each prospect's unique needs.
Action – Closing the deal and providing clients with additional resources.
Using your sales funnel as a benchmark is extremely helpful when developing new leads. Your sales funnel helps you visualize where each lead is in the sales process, and enables you to strategize about how to guide them to the next step.
#3 Qualify Leads
While a "lead" is anyone who is interested in your product, a "qualified lead" is someone who has engaged directly with your company and provided some personal information. Qualified leads have shown that they have real interest in becoming customers and are eager to receive more material.
Lead qualification involves reaching out to prospects and gauging their interest levels. This could be in the form of an email, phone call, or social media campaign. Since every business is unique, your criteria for a "qualified" lead will vary depending on what you're looking for in terms of engagement level, ideal customer profile, and response.
#4 Use Social Media for Developing Sales Leads Over Time
Social media is a useful tool when it comes to generating new leads and developing your relationship with existing prospects. Social media campaigns are a fun and fresh way to keep customers interested in your product without making them feel bombarded.
Create Engaging Content – From quizzes to Instagram filters, consider using fun and creative content to attract prospects to your company. Customers value experiences that make them feel uniquely appreciated and allow them to engage more directly online.

Utilize the Comments Section – Engage with interested prospects by commenting on social posts. Comment sections are a low-key place to answer questions or casually respond to reviews.
#5 Implement Email Campaigns
Newsletters, monthly promotions, and email updates provide crucial information to customers in a concise, and easily navigable format. Email campaigns are an effective way to keep prospects up-to-date about your product and to provide education resources.
With email marketing services, you can schedule emails to go out at specific dates and times, which means less work for you, and more contact with prospective buyers. Additionally, you can see how often your emails are opened, and which ones attract the most engagement. This will help you strategize about future marketing and understand your customers' interests.
#6 Developing Sales Leads With Outsourced Sales Development Services
Outsourced sales development services are a practical investment for companies who want to dedicate a team to lead generation. Sales development companies provide lead generation and qualification services, personalized marketing strategies, and sales team management, all while working to meet your company's long-term goals.
LeadJen's team of professional sales development reps will help your company succeed by providing high-quality leads that match your ideal customer profile. With LeadJen you'll create a plan that utilizes expert development strategies, and incorporates your business's unique needs.
Whether you're just starting out, or hoping to expand an existing business, LeadJen's sales development strategies will help you gain confidence, foster good relationships with clients, and expand your business with an eye towards the future.