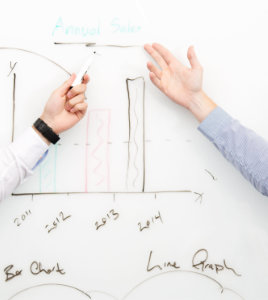 How to Prospect: Validated Leads Drive 4x More Meetings
[et_pb_section bb_built="1″ admin_label="section"][et_pb_row admin_label="row" background_position="top_left" background_repeat="repeat" background_size="initial"][et_pb_column type="4_4″][et_pb_text _builder_version="3.0.76″ background_layout="light" border_style="solid" module_alignment="left"]
How to Prospect: Validated Leads Drive 4x More Meetings
By Aaron Cecil
Reps working with validated data achieve 4x more appointments and eliminate $21k+ per rep per year in wasted time.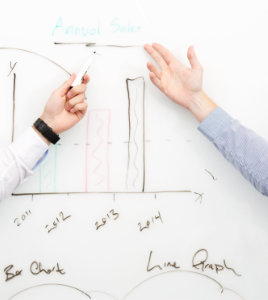 Lead lists can be generated, built or procured a number of ways. All can be valid options for success if done correctly. However, if you talk to anyone of our reps about what makes a successful campaign, you'll hear the same thing. DATA DATA DATA! And maybe you or your team have experienced a similar feeling. Maybe you've had a super shitty list where the bounce rates were high, the person you called left the company 3 years ago, the titles don't match up with your message, etc.
My guess is that the proliferation of data sources has lead to some shady vendors, poor data sources, and consequently cheaper data. I'm guessing most of you have experienced some pain here.  Cheap data dumps may seem like a great option at first, but you'll be hurting from it in the long run. As always, if you wanna buy cheap, you're gonna get cheap.
We recently conducted a Data ROI Study on the Cost of Not Validating Data. We found the following:
Reps working with validated data achieve 4x more appointments

Reps with data that has not been validated waste 27.3% of their time or $20,000 in sales time annually when considering the total cost of a rep.

30% of that time on wasted first attempts on bad data

70% on contacts that are not a fit
The lesson learned here is that good data matters. So what does a good list look like?
If possible, 90%+ valid data

Target industries that resonate with your message

The RIGHT title (remember, Director of Engineering could mean IT or engineering)

Email address

Phone number -> Direct numbers if possible. 50%+ direct dials

Domain -> If you're importing a list into your CRM, then this is crucial for account consistency. For example, if you're importing a list with contacts from Company A and Company A is already in your CRM, then you'll want to make sure they are consolidated into the same account. Almost everyone has that 1 (or 1,000) account that has 50 different versions.

Location -> for territory mapping

LinkedIn account -> if your reps like to do a lot of research prior to contact

Account Intelligence -> Install base, upcoming projects, account pains, drivers, etc…

History with your brand -> Great intel if they're a marketing lead. Helps develop a script that really resonates
What are the best ways to compile or procure a solid list? This is tough. There are a lot of good options out there, but they all depend on the company, sales & marketing environment, product or service, etc… To help, I'll give you a few examples that I've seen across multiple companies.
Here are the different types of lists that I've seen
Marketing leads
Inbound leads (form fills, webinars, etc.)

Event leads (booth visitors or purchasing the registrant list)

Activity leads (clicks from an email blast)
Market Research Databases
Market Research Analysts
Self Generated
LinkedIn

Hunter

ZoomInfo

Your own CRM database
Market Research Databases
For those that are blessed with a larger sales and marketing team and a budget to support them, there are excellent options with DiscoverOrg & RainKing. They both offer very large data sets for various lines of business, geos, industries, etc.  Additionally, if you have a product or service that goes along with another product, then knowledge of an accounts projects, pains, and install base would be well worth the investment.
If you have a sophisticated marketing team, then these leads can also be utilized in email marketing to support various campaigns that may be technology specific. They are also able to integrate and play nice with CRM's such as Salesforce so you can easily import, pull, enhance or add data, and update data. For all you sales ops folks, this is a dream as it can automatically update your systems contact database. This can be extremely helpful to make sure all your leads are up-to-date.
That sounds great! You might be saying. Not so fast… a typical annual license can cost around $25k depending on the type of dataset.
Market Research Analysts
For those that want to be fed the most high quality, targeted leads without having to do any data manipulation or whose industry is hard to acquire leads, this is your best option.
Purchasing a list or database is great, but you'll still need to manually manipulate the data in order to get down to your target contacts. There are firms out there that will do all the manual research and manipulation to provide a thoroughly cleansed and validated list by using multiple databases and even calling on the leads to verify their information.
Typically, a service like this is ondemand or can be used as your outsourced team, which is great if you need a targeted leads on a regular basis without all the irrelevant leads clogging up your CRM.
We worked with an IT services firm that delivered services around a specific technology, so understanding what accounts had that technology installed was imperative for a successful campaign. The solution and results of the campaign are published here.
Self-Generated Leads
This is a great option for teams that need to really "ball on a budget". This may be the only option for some, but please keep in mind that when you rely on your reps to build their own lists that their call productivity & volume might decrease drastically. In some cases from 15-20/hour to 3-5/hour.
I've found several ways & reasons to do this over the years. For example, I was targeting smaller organizations within a larger partner channel ecosystem and didn't have the budget to outsource it, so I had to do it myself. The following approach lead to a 75% accuracy rate and because my message was hyper focused it lead to more appointments than I originally anticipated.
First, always start with LinkedIn. Sales Navigator if possible. It's great because it's self-service update on the lead end, so the chance for valid info is high. Here you can start putting together a list of names, titles, company name, & location. Now getting the contact info is another story. There are several free options here such as Hunter and Data.com Community. If you have some budget, then you I would suggest ZoomInfo.
Interested a larger, more predictable pipeline? Contact us to talk about outsourcing your lead generation efforts.
[/et_pb_text][/et_pb_column][/et_pb_row][/et_pb_section]