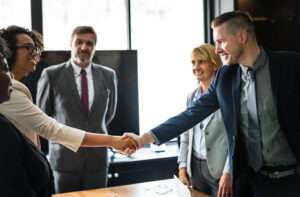 How to Select the Right Appointment Setting Vendor
You've decided that you need assistance with outside sales. So, you've started your search for an appointment setting vendor. But, how do you find the right partner in a sea of options?
You need a dedicated team of specialists that will identify high-quality prospects and set the first appointment. The stakes are high. Choose well, and you'll meet or exceed your sales goals. Choose poorly, and you risk throwing away your investment in the vendor and even having them damage your business's reputation in the marketplace due to their lack of professionalism.
Regardless of how beautiful their website and marketing materials may look, you have to dig deeper. The truth is that not every vendor has the skills and resources you need. To help you with vetting appointment setting vendors, we've identified several vital question areas for you to consider.
Assess Your Current Sales Environment
The first set of questions are focused inward. It's essential that you begin by looking at your current sales environment. How are you currently generating leads? Do you have your finger on the pulse of your target market? Do you understand how to communicate your value proposition to cold leads? Do you have any sales and marketing collateral such as white papers, case studies, videos, etc.?
Building upon the answers to those questions, ask yourself what you need your vendor to bring to the table. You may need more than leads. You may need the vendor to bring everything, including help with messaging as well as all of the related sales tools and technology.
With these questions answered, you are prepared to think about the many other aspects of engaging an appointment setting vendor.
Set Your Expectations
It's crucial that you establish your expectations up front. Ask yourself how do you define success. For instance, you want to know the amount of ROI you need the project to deliver. Once you've set your expectations, determine which of them are appropriate to share with the vendor. When you talk to the vendor, try to gauge whether they are comfortable with your expectations. The right vendor will welcome your preparedness.
Ask About the Vendor's Team Structure and Talent
It helps to learn everything you can about how the vendor is structured and the quality of their talent. Ask where the company and its reps are located. The company may be based in the United States but outsource reps to an overseas vendor. You may want to avoid issues that come with using off-shore reps such as time-zone differences and language fluency.
You also want to know whether the vendor has experience in your industry. A related question is what is the experience level of the sales team with which you will be working. The greater the experience, the better the outcomes you can expect. These questions become very important if you offer a highly sophisticated solution.
Also, ask how many reps do they employ, and how many will be making calls on your behalf. Do they have lots of reps who sporadically make calls for various clients? Alternatively, do they have reps that are dedicated to your account? Moreover, what happens when a rep leaves the vendor? Does everything start from scratch? How does the vendor maintain consistency over time? These questions relate to the vendor's ability to manage the knowledge of their reps and build a relationship with your organization.
Ask About the Vendor's Outreach Methodology
Ask what their high-level methodology and workflow look like. How do they generate leads? How many touches per lead do they make? Do they send out emails, make calls, and engage leads on social media? How do they qualify leads? Will their prospects be tire-kickers or will they be ready to have their pain point solved?
Also, ask how will their reps be representing your company. Will they say they are with your company and have email addresses with your domain name? They should. It's essential that your vendor's reps look, act, and talk like they are a part of your company.
Ask About Leads
It's also important to ask about leads. Will the vendor provide the list of leads, or do you have to provide the list? The answer to this question helps when its time to set a budget for the project. Further, if the vendor is providing the list, ask how they are building it. And, how many leads they are including?
Ask About Their CRM
CRM data is the lifeblood of your campaign. So, you want to know as much about it as you can. Ask how they track engagement data. Will they share the data with you? And will they provide you with reports based on that data?
Ask About the Quality of Meetings
You want to know, on average, what is the qualification rate of the meetings that are set. For instance, if the vendor sets 10 meetings, how many should you expect to be qualified? Further, ask what the qualifying criteria are. Does the vendor have predefined criteria that you will need to adopt, or will you have input?
Ask About the Pricing Structure
Of course, you need to be comfortable with the vendor's pricing method. Ask whether there is a base price or do they operate entirely on commission. Alternatively, is there a base plus commission structure.
Now You're Ready
When you have these questions in mind during your meeting with a vendor, you will be exceptionally prepared. You will also be setting yourself up for greater success. Not only will you have a better chance at selecting the right vendor, you will have laid the groundwork for your relationship with them. They'll know that you are a serious client with specific expectations and they must deliver.
If you are in the process of evaluating appointment setting vendors, we'd love to answer all of your questions. Contact us today.