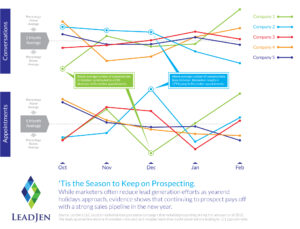 Lead Generation Shouldn't Take a Holiday

Most people like to squeeze in some extra time off during the holiday season. It only makes sense to reduce or suspend sales prospecting, too, right? 
While most sales and marketing managers assume that December is the lowest performing month for generating net new leads, our data doesn't back this up.
by Jenny Vance
Check out the  Holiday Infographic on monthly appointment performance.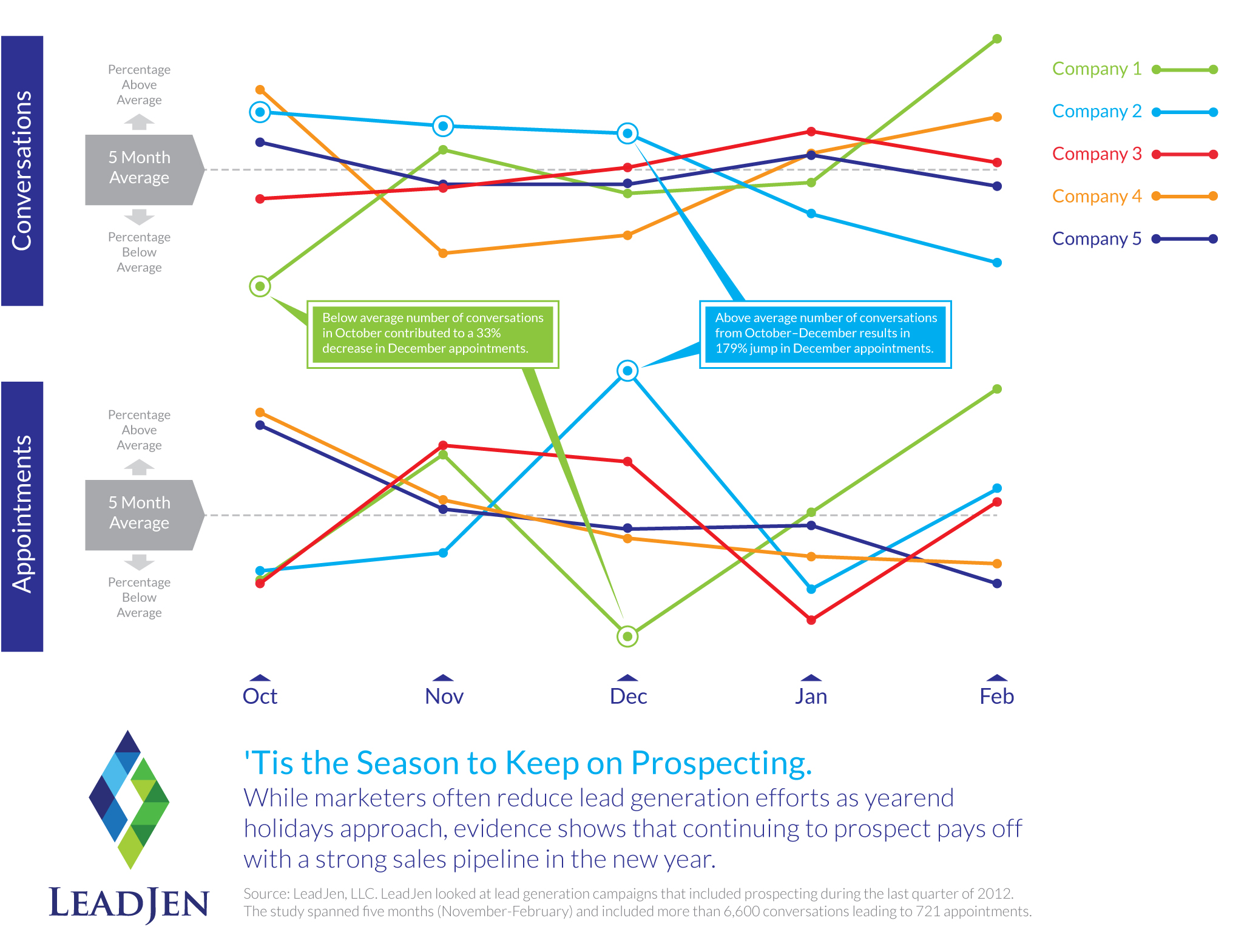 A look at five companies that continued prospecting in December demonstrates that December is a fairly average month for lead production. In addition, companies that prospect in December have a stronger start to the new year.
Consider what would happen if sales reps viewed the last month of every quarter like they do December. If sales reps stopped prospecting the last month of every quarter, they would sit idle four months out of the year, and sales would suffer.
Prospecting in December positions a company for a top-performing January. Companies that continue to prospect in December start out January in a strong sales position because sales reps come back to the office after closing out the year and walk straight into meetings. On the other hand, companies that stop prospecting in December enter January with an empty pipeline. Sales reps spend January making calls and building the pipeline, and selling doesn't start up again until February.
It's true that December is full of distractions for prospects. At the same time, December's cadence can actually work to your advantage when it comes to appointment setting:
While sales reps may have fewer conversations with prospects in December, when they do connect, prospects tend to be in a better mood. Their year is winding down and they are thinking about how to succeed next year. They may be open to setting a sales appointment for the first week of January.
Many people take time off during the holidays, but many don't. Some view the slower pace, empty office and lack of rush hour traffic as a great time to close out the current year and prepare for the next. It may actually be easier to get a prospect live on the phone.
Also, companies that are considering waiting to implement a new sales prospecting effort until 2014 should reconsider. Waiting two months to fire up the prospecting engine equates to two lost months of sales in 2014. Companies with a long sales cycle may have to wait until 2015 to benefit from the lead generation effort. Can your company afford that?
When it comes to year-end holidays, 'tis the season to keep on prospecting.
Check this out at Inside Indiana Business
Jenny Vance is president of LeadJen, a B2B sales lead generation company that helps corporate sales and marketing teams drive more revenue and better understand their market. She can be reached at jenny@leadjen.com or on Twitter @jennyvancyindy.