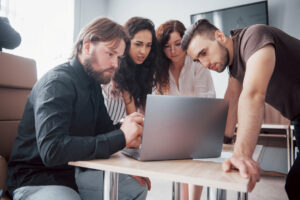 5 Challenges in Onboarding a Sales Team
One of the most exciting and integral parts of a successful company is onboarding a strong sales team. As a business, you want your sales team to be cohesive, to understand the industry, and to mesh with your company's values. It can be challenging to find the right combination of people when you're assembling a new team.
Need some help navigating the onboarding experience? Here's our list of the biggest challenges you might face in onboarding your sales team, and some strategies to optimize and streamline the process.
#1 Onboarding a Sales Team That Understands Company Values
Great sales reps aren't a dime a dozen. Finding the right fit for your company might feel like an overwhelming task. While resumé's are a helpful way to gain context about a candidate's work experience, it won't tell you about their personality or values. It's important to see how each candidate fits in with the goals and vision of your company.
Make sure your candidate is enthusiastic about your workplace. Pay attention to their communication skills like active listening and asking follow-up questions. Prioritize candidates who seem genuinely interested in your company's mission, and don't forget to trust your instinct!
#2 Hiring Valuable Talent
Once you've identified top-notch candidates, it's time to hire your team. Unfortunately, the only real way to know how a candidate will perform in their sales is to see them in action on the phone. A sales rep might mesh well with your company's values, but fall behind when it comes to closing the deal.
While thorough training ensures everyone is on the same page, (we'll elaborate more later) you'll want a clear picture of your candidates' abilities before you offer them the job. Our advice? Curate a list of hard-hitting interview questions. Once you've narrowed your candidates, final interviews are illuminating. Ask questions that simulate a sales environment, and see how they respond. Are they calm and collected? Are they pleasant and helpful? These small cues will help you ascertain how your employee will perform as part of your team.
#3 Providing Information
Now that you have your new sales team assembled, it's time to show them the ropes. Part of the onboarding process is teaching your new employees all about the company's policies and expectations. Learning and retaining all this new information can be exhausting and intimidating! With so much to impart, it's easy to overwhelm new hires with onboarding materials.
Write it Down – Make sure you provide employees with a comprehensive handbook detailing company policies and expectations. This will serve as a helpful reference for new hires, and will ensure you have your bases covered when it comes to disclosing relevant information.
Add Variety – Training isn't only about plodding through handbooks and policies. Spice up your onboarding program with activities, videos, and ice breakers.
Encourage Participation – Keep employees engaged by involving them in the process as much as possible. Facilitate teambuilding exercises and let everyone get to know one another!
#4 Determining Your Onboarding Program's Duration
When designing your onboarding program, you need to provide sufficient information and support to new employees without waxing on too long and wasting their time. Deciding how much onboarding time is enough can be a big challenge.
Remember not to equate orientation with onboarding. Orientation is an overview day to get everyone acquainted with the company and one another, while onboarding is a longer process. Try not to rush things! It's far better to allow sales reps to fully learn the ropes than to ask too much too soon.
On the other hand, don't hold capable sales reps back too long. Check in with senior reps to see how new hires are performing. It's important to let new team members know you trust their abilities, and to give them the opportunity to excel.
#5 Onboarding a Sales Team that Sticks Around
Once you've hired and trained your new team, you have to keep them around! Make sure you're attuned to employee satisfaction and the workplace environment. A little attention goes a long way, and keeping your employees happy definitely pays off in the long run.
Check-in with new hires and make sure they have the resources they need to succeed. Working with a lead generation service is a great way to give sales reps a head start. LeadJen offers outsourced SDR services so your top salespeople spend less time hunting for new leads and more time closing deals. LeadJen offers both full-time and part-time SDRs, so you can meet all your business requirements.
The Bottom Line
Hiring a strong sales team can make or break your company's performance. From selecting the right candidates, to providing engaging onboarding materials, to retaining new hires, onboarding is a multi-faceted endeavor. With so many factors at play, it's important to go back to the basics. Listen to your instincts, and don't compromise your values. If you stick to those principles, hiring the right team will be a breeze!