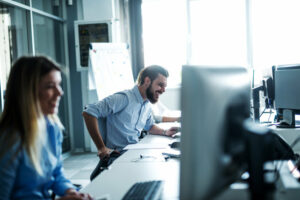 Signs You Need to Outsource Cold Calling
The survival of small businesses is getting tougher as the market grows more competitive – businesses that outsource cold calling often find greater margins of success. Digital marketing can help boost sales. However, most often the budget of small businesses doesn't allow them to bring digital to their marketing mix.
Here's where cold calling comes in. Cold calling is the go-to marketing tool that'll help a small business reach its audiences cost-effectively and convince them. Being a proven strategy, cold calling promotes real-time link building and delivers a high success rate.
Nonetheless, the success rate of cold calling will only be higher when it's handled by well-trained, skilled agents. A business may hire just a handful of calling agents thinking that it'll strike gold. However, that's not the case unless the hired agents have the expertise and experience in executing cold calling strategies. When the call agents fail to deliver results, most businesses start questioning the effectiveness of cold calling instead of outsourcing it.
As a business owner, you shouldn't dismiss the effectiveness of cold calling just because you gave the responsibility to a bunch of inexperienced agents. That's why we're listing five signs that'll tell you it's time to outsource cold calling.
Here's when your business should outsource cold calling
Businesses use many strategies to boost sales. Some of the organizations earn success while others may not get any results. It, however, doesn't mean the strategy that didn't work for a business is useless; it may also mean that the business failed to use the strategy effectively. The same thing happens with cold calling. If a business isn't able to reap rewards from cold calling, other businesses start assuming that the strategy is good for nothing. However, when your business isn't able to get returns from cold calling, it means you should consult professionals. Here are the top five signs that show your business should outsource cold calling.
When call agents get too distracted
The first important sign for your business to outsource cold calling appears when your call agents get distracted. The distraction may occur due to some external factors like lack of proper calling equipment, bad work environment, and the like. Likewise, your calling agent may get distracting because of many internal factors including lack of confidence, low self-esteem, and inadequate skill levels. When your call agents get distracted because of any of these reasons, cold calling won't deliver positive results.
When you have inexperienced call agents
The reason you should outsource your cold calling functions gets all the more noticeable when you've hired inexperienced call agents. Untrained call agents can get costly for small businesses. Most small businesses also prefer hiring call agents at low rates. However, small businesses forget that the staff hired at low rates may not be trained. On top of that, small businesses may easily lack funds to train the agents. Eventually, inexperienced call agents incur huge losses for businesses. That's why most businesses should prefer to outsource cold calling from the word go without spending too much time and resources on inexperienced call agents.
When the rate of achieving goals is too low
Call agents try to connect with prospects. In most cases, the call agents have pre-defined goals and clear objectives. However, most calling agents still cannot meet goals despite having longer sales calls with prospects. This is one of the clearest signs that your business should immediately outsource cold calling agents. When you see your business's calling reps struggling to achieve their goals, you must outsource this service to more experienced professionals.
When leads only trickle
Having poor leads is a strong warning sign that your business should rely on outsourced cold calling service providers. You invest your energy, resources, and time into hiring calling agents. Then you provide them with the necessary setup and tools to help them work effectively. Despite doing all these things, your call agents don't land long-term leads. If this is happening more often in your business, then you should seriously consider outsourcing cold calling professionals who can win more leads in less time.
When the return on investment is low
One other important sign that you should outsource cold calling is getting weak returns on investment. Your strategy is good enough to land you up to three leads once in a while, but the ROI isn't enough to compensate for all the leads you lost. So, if you believe your cold calling strategy is good but its execution isn't done properly, then you should opt for outsourcing the work to a professional caller.
When You Need to Outsource Cold Calling, Think LeadJen
At LeadJen, we've been a trusted outsourcing partner helping businesses raise their cold calling game. For over a decade, we've used our cold calling expertise to help businesses successfully land qualified deals and close sales. Besides leveraging our expertise, we have access to sales enablement tools and capabilities to design and deploy proven cold calling solutions that'll suit your business. Connect with one of our cold calling experts today and see how we can help your business achieve its sales quotas through cold calling.