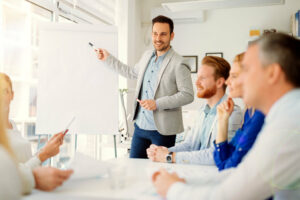 5 Best Sales Coaching Strategies
Just imagine your sales team outperforming itself every month. Good coaching helps improve your sales team's quota attainment. That's why most high-impact sales organizations prioritize the need for coaching. In this blog, we'll dive deep into five creative sales coaching strategies that your business should use. However, first, let's understand sales coaching in detail.
Sales Coaching Strategies Explained
You can think of coaching as a set of strategies that help a sales leader change their reps' behaviors for driving better results faster. Sales managers heavily invest in coaching for maximizing their sales team's performance. Regular coaching sessions are designed so that every rep is equipped to reach their personal quotas and enable their team to achieve its goals.
A sales coach is a manager who should develop the reps' selling attitude, help them improve their performance, and empower them to conquer their goals. Coaching is behavioral training instead of a task where the focus remains on enabling team members to self-discover ways of overcoming their problems and grow.
Despite the importance of sales coaching, most managers spend the lion's share of their time doing other activities. These activities include preparing forecasts, selling, and attending meetings. However, in the thick of things, sales managers often downplay the importance of sales coaching—one of the few things that'll help set their reps up for success. If you want to improve the efficiency of your sales department, you'll have to do more sales coaching. Nonetheless, doing more sales coaching is different than doing it effectively.
To help you get the most out of your coaching sessions, we've compiled five proven strategies.
Ways to Improve Your Sales Coaching
Building the trust factor
You should earn the trust of your sales reps if you want your coaching sessions to work effectively. That means you should wear your coaching hat while putting aside the management crown for some time. When you wear your coaching hat, you should be non-judgmental. As a coach, you should allow individuals to be open in the discussion of performance challenges and behavioral issues. Remember, that trust is the foundation of a great leader.
Asking smart questions
Sales reps don't like to be told what they're required to do. If you want to be a successful sales coach and manager, you'll have to quit micromanaging your sales staff. Instead, your effective questions will be centered around the "how" of the sales process that your salespeople are following. Being a sales coach, you'll have to allow your salespeople to own the solution and to do the execution. If you're an effective sales coach, your questions will help your sales team stimulate thinking and discover solutions.
Encouraging self-evaluation
When you're doing skill assessments or post-call debriefs, it's important to have the salespeople guide the process and do self-evaluation. As a sales manager, you can only be on the field with a couple of reps for just a few days when they're beginning their stint at your organization. That's why the primary goal of sales coaching is to encourage the reps to self-evaluate how they're performing even when you're not standing behind their back. You may want to offer quick feedback, but if you want your sales folks to push the envelop and grow, you'll have to let them self-evaluate. Self-evaluation will help them unlock a greater level of self-awareness, which will eventually lead to building self-confidence.
Focusing on one area
When you're coaching, you may be tempted to work on your reps' multiple improvement areas. However, that's not an effective way of coaching. Instead, you should focus on a single area of improvement. Coaches who try to improve multiple areas of their sales team simultaneously see unproductive results or no change. That's why you should focus on improving one area of your reps at one time; then only you can expect your sales coaching to deliver sizeable returns.
Getting the buy-in from reps
As an effective coach, which area of improvement should you focus on? Ask the reps for their suggestions. Asking suggestions from reps creates a desire among the reps to improve. However, less effective sales leaders will pick the area of improvement themselves before getting buy-in from the reps involved.
Summing Up Sales Coaching Strategies
Successful sales leaders can have a positive impact on their sales team through their coaching tactics. An effective coaching session will have many nuances. However, if you follow best practices such as asking the right questions and building a culture of self-evaluation, you'll help make your coaching sessions more impactful. Always remember that coaching helps drive sales performance to the next level. When you effectively coach a team, you'll develop not just your sales team but even yourself as a leader. Contact LeadJen today for more information about our services.