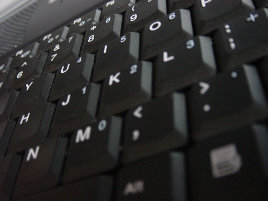 Client Value Brief: 104 Opportunities for Healthcare Co.
[et_pb_section bb_built="1″ admin_label="section"][et_pb_row admin_label="row" background_position="top_left" background_repeat="repeat" background_size="initial"][et_pb_column type="4_4″][et_pb_text _builder_version="3.0.71″ background_layout="light" text_orientation="left" border_style="solid"]
Client Value Brief: 104 Opportunities for Healthcare Co.
By Aaron Cecil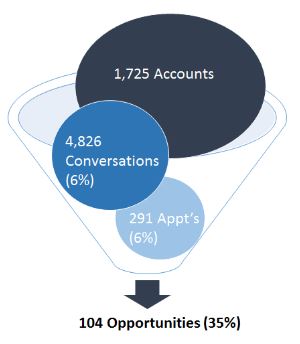 Every now and again we'll highlight a client program and break down the data so that you can have a better into the inner workings of a sales development program.
The Situation:
Being a venture backed company, all the eyes were paying close attention to sales pipeline and closed business. However, it quickly became apparent to the team that they needed a mechanism to consistently deliver pipeline while the sales team was out managing and close deals.
At the time of the engagement, this company, like most was relying on their network, referrals, and being reactive. We wanted to help them take a more proactive approach and identify how best to enter a cold account by understanding the best title path and message.
The Approach
LeadJen would run methodical campaigns targeting various healthcare organizations to identify the path of least resistance into new accounts.
Campaign Specifics
26 different campaigns

35% using EMR specific messaging

12% re-target old leads

Account targets: Hospitals and Medical Centers

Contact targets: SME titles and Director level
Over time we would also collect EMR data for them to develop better messages and then re-target accounts.
The Results
Over a 2 year program, we found the following:
104 opportunities were created with an average deal size of $100,000 from 291 appointments, which was a 35% conversion rate.
Scope:
76,000 touches (calls, emails, voicemails)

5,814 leads

1,725 accounts
Appointments:
94% via phone

16% referrals (755 new leads added)

20% follow ups

64% phone cadence

6% via email
Opportunities:
104 qualified opportunities (35% conversion rate from appointments)

An deal size of $100k

Total estimated pipeline of $10,400,000
Note: Surprisingly, Monday yielded the most appointments than any other day with 31% of the total appointments.

Takeaways:
The program was deemed successful for multiple reasons:
Outbound prospecting is a viable option for building a larger, more predictable pipeline

They now have the knowledge base and skillset for proactively entering cold accounts

They have gathered useful market intelligence on accounts that can be used for future campaigns

They have proven to investors that there is demand for their solution in the marketplace outside of their immediate networks
Every business should have multiple lead generation channels. Relying on one or two could lead to random dry periods for your pipeline which can be detrimental to revenue and momentum. I encourage you to look into creating an outbound prospecting program that fits into your business.
Interested a larger, more predictable pipeline? Contact us to talk about outsourcing your lead generation efforts.
[/et_pb_text][/et_pb_column][/et_pb_row][/et_pb_section]