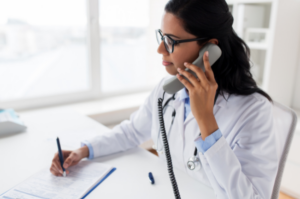 High Volume Cold Calling is a Numbers Game
You've probably heard it before: cold calling is all about the numbers. While high volume cold calling certainly relies on tracking your call volume and the percentage of sales you close, there's more to cold calling than statistics and quotas.
From tracking your calling stats, to strategizing with your sales team, we've compiled a guide to cold calling 101. Like any game, it's all about understanding the strategy first, and then using your acquired skills to lead you to victory!
The Numbers of High Volume Cold Calling
First things first, let's review how numbers factor into your cold calling strategy.
Number of Dials – There's no doubt that calling a larger base of prospective clients will lead to a higher percentage of sales. But what is the average conversion rate from call to sale? According to Business 2 Community writer Laney Pilpel, "we expect that for every 100 dials, one should have about 10 conversations and from those conversations, they should result in a 3-5% lead rate."
To stay on top of your call quota, we recommend tracking the number of calls you make in a single day. This is helpful for estimating the percentage of calls that turn into sales, and formulating strategies to optimize the efficacy of these calls going forward.
Contact with Decision Makers. – In addition to tracking your call volume, it's helpful to keep tabs on how often you have the chance to speak to a decision maker. Cold calls often end up being received by administrators, secretaries and assistants. Make note of opportunities to speak directly with those who have the authority to close a deal.
If you know the name of the person(s) in charge, ask to speak to them instead of immediately launching into your sales pitch. You don't want to waste your time pitching to folks who aren't in a position to employ your product or service.
Tracking Results – Keep a tally of how many sales calls turn into meetings so you can gauge the success of your strategy and make necessary amendments. From there, you'll get a better idea of your ideal client profile, useful sales tactics, and optimal call timing.
High Volume Cold Calling Strategy
Now that you have an idea of which numbers you need to track, let's talk strategies. While cold calling can be a numbers game, it's also important to create a sales pipeline that works for your company and yields consistent results. Our recommendations? Plan ahead, train your team, and focus on asking the right questions.
Making a Call Plan – Create a plan with your team for sales follow-ups and call frequency. This might include introductory or follow-up emails as well as voicemails. Make sure you have consistent contact with your prospect, but don't go overboard. The end goal is to keep your prospect engaged, and remember "you have a much stronger chance of hearing back if the prospect sees repetitive behavior coming from you and your organization, so stay in front of them consistently" (business2community.com).
Training Your Team – Cold calls are intimidating even for seasoned sales reps. A great place to start is making sure that everyone is on the same page when it comes to expectations and company policies.
Your employees don't need to be experts on every single product detail, but training reps in basic sales skills goes a long way: "make sure they are trained on the basics: how to introduce themselves, how to overcome objections, and how to combat competition." (business2community.com). Successful cold calling is partially about confidence, and the more your reps feel comfortable pitching the product and formulating their introductory statements, the more successful they'll be.
Engaging with Clients – In today's sales environment, customers are more responsive to value-based selling strategies and personal connections with sales reps. While cold calling might be awkward at first, one of the most effective strategies is simply to get to know your client.
Instead of emphasizing the value of the product in the abstract, focus on the value the product will bring specifically to each client. Ask questions about their business and their goals. Get to know your prospect so you're better equipped to demonstrate how your service will fit into their company and enhance their workplace.
Streamline Your Sales Pipeline
Cold calling is hard work. From scoping out potential clients to checking off mile-long call lists, cold calling is a time-consuming endeavor. Need to save your reps some time and energy?
Instead of making reps do all the grunt work, hire a lead generation service like LeadJen. At LeadJen, you can expect professional SDR services at affordable costs. Unlike other services, LeadJen offers a monthly payment plan, so you can fit their personalized lead generation services into any budget. LeadJen's team of SDRs will help you expand your list of qualified leads, so your reps can focus on big picture strategies.
Instead of feeling overwhelmed by numbers and statistics, it's time to take charge of your sales strategy. From tracking call volume, to hiring a lead generation service, you have the tools you need to craft the perfect sales plan.