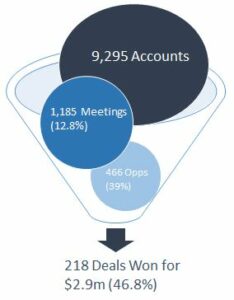 How To Prospect: How FDB Closed $3m by Farming Their Customer Base
[et_pb_section bb_built="1″ admin_label="section"][et_pb_row admin_label="row" background_position="top_left" background_repeat="repeat" background_size="initial"][et_pb_column type="4_4″][et_pb_text _builder_version="3.0.71″ background_layout="light" text_orientation="left" border_style="solid"]
How to Prospect: How FDB Closed $3m by Farming Their Customer Base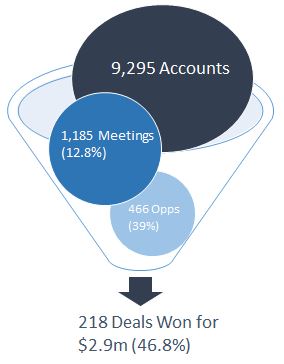 Most people think they need to target new accounts in order to grow their pipeline/hit their sales quota. Ironically, so did First Data Bank when we first started working them with. The marketing team at FDB separated their efforts into 2 campaigns: Unknown & Known.
Our team was responsible for prospecting through unknown accounts to find opportunities at new logo accounts while the internal sales teams were responsible for mining through their existing customer base for new opportunities with new products or within new groups.
Like with most sales teams, this campaign quickly took a backseat  to closing business. Additionally, because of the sheer volume of prospects within the "known" campaign opportunities were often overlooked or missed.
Looking at the little data that we did have for the two campaigns from Salesvue, we noticed that Known campaigns had higher conversion rates to appointments than the Unknown campaigns. Being proactive, we decided to pivot our approach. The FDB team gave LeadJen all of the Known accounts.
This approach has generated leads that have converted to sales with a first-year account value worth quadruple the company's investment in the effort. Since FDB's customer relationships tend to be long-term, the real value of these leads, over time, is many times greater. In addition, FDB has dozens of open opportunities in the pipeline with a first-year account value that more than doubles current results.
During the first three years of the company's relationship with LeadJen, closed opportunities for all "Known" campaigns had a 42.35 percent conversion rate, meaning nearly 43 percent of the appointments made converted to sales.
You'll notice that the impact from an outbound prospecting program was not immediate. The biggest contributors for time to value were the natural sales cycle, ramp up time, and up/cross sell.
To view the full case study CLICK HERE.
Interested a larger, more predictable pipeline? Contact us to talk about outsourcing your lead generation efforts.
[/et_pb_text][/et_pb_column][/et_pb_row][/et_pb_section]