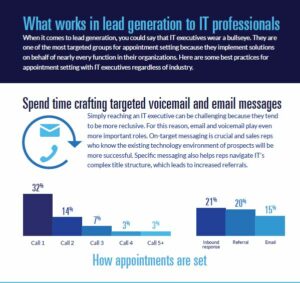 LeadJen Infographic Shows Best Practices for Selling to IT Professionals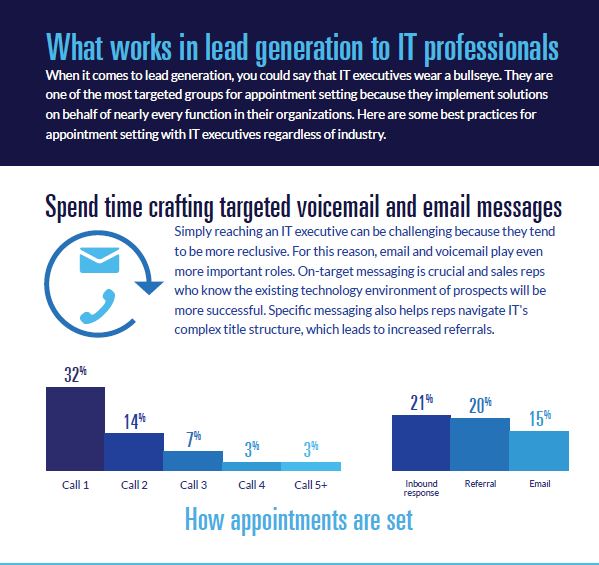 INDIANAPOLIS – (July 23, 2014) – When prospecting to IT professionals, marketers should spend time perfecting email and voicemail messages, since nearly a quarter of appointments are set from an inbound response to those messages, according to an infographic released by LeadJen (www.leadjen.com), a B2B lead generation company that helps corporate sales and marketing teams drive more revenue and better understand their market.
What Works in Lead Generation to IT Professionals graphically presents best practices compiled from lead generation campaigns targeting IT professionals from 2011-2013, including more than 331,000 call and email attempts, resulting in nearly 1,500 qualified appointments, $5.5 million in revenue generated and an additional $20 million in pipeline value.
The infographic shows which lead generation tactics are most effective in reaching IT professionals; the best season, day and time for lead generation to this audience; and which titles and functions are most open to lead generation.
For example, the infographic shows:
It's getting more difficult to reach IT professionals, with a 222:1 attempt to appointment ratio.
Inbound response to a voicemail or email message results in 21 percent of appointments set.
32 percent of appointments with IT professionals are set during the first phone call.
September and April are the most successful months for lead generation.
Directors and managers are most receptive to lead generation, as is the general IT/Services function.
"IT executives are one of the most targeted groups for appointment setting because they implement solutions on behalf of nearly every function in their organizations,"said Jenny Vance, president of LeadJen."However, lead generation programs based on best practices and a professionally persistent approach can deliver significant returns."
Download the full IT report: