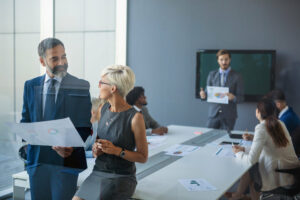 How to Get Past the Gatekeeper?
Whether you're a beginning salesperson or even an expert at closing deals, one obstacle always remains in your way: how to get past the gatekeeper.
Sales development reps, or SDRs, often call assistants, phone operators, or receptionists "gatekeepers." Why are people in these positions called gatekeepers, you may think? It's because these people are responsible for screening calls and prioritizing who gets the attention of their boss—the person who's responsible for calling the shots.
That's why gatekeepers are integral to the success of a B2B sales cycle. As a salesperson, you cannot successfully close a deal if you fail to convince a gatekeeper that your business is important. Are you wondering how to get past the gatekeeper? Fear not because this blog is revealing five tips to help you do that.
How to Get Past the Gatekeeper? Respect.
Respect assistants, receptionists, and phone operators. Think about it: Gatekeepers are one of the most integral resources in any organization, and they can go a long way in helping you make a sale. That's why it's important to treat them with respect so that they become a building block of your sales process instead of being a roadblock. It's best to be kind to them and make them know that you appreciate their help, no matter they get you connected with their boss or not. However, if you're rude to them, you'll lose the sale.
Honesty is the best policy
One sure-fire way of making a sale is to introduce yourself to the gatekeeper through an email. You can even send the gatekeepers your company's marketing collateral that'll help them know exactly how your business will help their boss. That'll give you a solid reason while you make the follow-up call. However, keep in mind that you're upfront during the follow-up call. That means you should honestly tell the gatekeeper that you're following up on the information you'd shared in your mail.
Confidence creates trust
The gatekeeper is trained to separate important calls from unwanted ones. That's why whenever you call the gatekeeper, be cautious of your tone. Speak with a relaxed and confident voice and talk courteously. If you want to see the gatekeeper in person, you should smile while you're talking with this person. Remember to always remain confident and not nervous.
Being friendly matters
Friendliness may not be apt for cracking every deal, but adding a personal and friendly element in your conversation will help you bypass gatekeepers fast. Make sure to deliver a handwritten note or ask for an in-person meeting. Bottom line: Go the extra mile that'd help you rise head and shoulders above tens of hundreds of callers and get the competitive edge.
Make gatekeepers your resource
You should view every gatekeeper as a solid resource to your sales process instead of being an obstacle. Receptionists, assistants, and phone operators know valuable information such as your prospect's location, schedule, contact details, and more. Your aim should be to get to know these gatekeepers, extract these nuggets of information from them, and then use these details in the best way possible.
Are your internal salespeople unable to bypass the gatekeeper? If so, then you should trust a team of expert sales development reps (SDRs) to help them out. When it comes to finding the most reliable team of SDRs, it comes down to LeadJen.
LeadJen's outsourced SDRs know how to get past the gatekeeper
At LeadJen, we have a team of SDRs who use battle-tested tactics to help you get past the gatekeeper and reach your prospect seamlessly. Better yet, having our SDRs by your side means you don't have to spend time and cost on recruiting and training sales staff on how to get past gatekeepers. Get in touch with us and discover how our outsourced sales team will improve your bottom line.