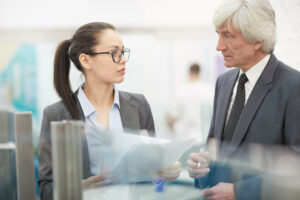 6 Sales Trends in 2021 You Need to Know
The impact of COVID-19 has significantly changed the sales trends landscape in 2021. Consumers are accessing products in new ways, and providers are adapting to their new demands. Although 2021 has felt like a long year, there's still plenty of time left to get up to speed on the newest, hottest, sales trends.
Here are our top six picks for the sales trends you need to know in 2021!
Sales Trends in 2021: Value-Based Selling
In a nutshell, value-based selling is all about marketing customer satisfaction over profit. This might seem counterintuitive, but customers are becoming less and less interested in scoring a great bargain, and more interested in what the product offers them.
According to Finances Online, 87% of high-growth companies are implementing value-based selling in 2021. Instead of making the risky decision to slash prices and offer deals, value-based selling is about highlighting the value of your product, and emphasizing quality over quantity. This allows companies to focus on customizing their sales strategies to align with what customers want, and the worth their products provide.
AI
2021 is the time to embrace new sales technology. With more shopping interactions taking place online, any growth-oriented company needs to work with the latest Artificial Intelligence (AI) software. AI can manage up to 40% of all sales tasks, freeing up sales teams to focus on big-picture marketing strategies (Finances Online, 2021).
Increase Productivity – Whether you're looking for new leads or simply taking care of paperwork, day-to-day sales tasks can be extremely time-consuming. When you outsource these tasks to AI, you create more time for salespeople to work on strategies and have meaningful conversations with clients.
Gain Insight into Customer Satisfaction – In addition to simplifying your life, AI technology provides useful data on customers through insights into purchasing patterns and recommendations for similar products.
Social Selling
What's the most 2021-appropriate trend of all? You guessed it: social media. With pandemic era social-distancing becoming the new normal, people spend more time than ever connecting to others via social-media platforms.
Social selling is a great way to connect to and engage with your audience online. Having a strong social presence allows your product to become a ubiquitous part of your client's newsfeed. Before they know it, yours will be the first product that comes to mind on their next online shopping extravaganza. Since 94% of buyers in the US do research online before making a purchase, curating a strong social media presence helps solidify your reliability and branding (Finances Online, 2021).
Sales Trends in 2021 Demands a Personalized Experience
Part of a successful sales strategy in 2021 includes personalizing your client's online experience. In addition to incorporating social media and utilizing AI, implementing online features like customer profiles and live chats encourages customers to interact with sales reps and customize their online presence.
Make a Profile – Up to 60% of Americans are comfortable sharing their information online to create a more personal shopping experience (Finances Online, 2021). Offer customers the opportunity to create an online profile or account on your site so they feel like they're part of the family.
Use Live Chat Software – Offer customers the capability to start a live chat with sales personnel 'on hand' to answer questions or provide information. This is a great way to boost engagement and provide excellent customer service.
Targeted Suggestions – Using data gathered from AI software, show customers advertisements targeted to their specific needs and preferences.
Employee Training
Although your workforce might be far-flung due to the pandemic, cultivating a group of workers who are competent, well trained, and part of a team fosters success. Think of your employees as team members, and remember to create an environment that encourages creativity!
Training can feel perfunctory, but investing in training is an excellent way to ensure everyone is on the same page and able to excel at their job. Use an online training platform so team members have a hub where they can convene and support one another remotely. Plus, this allows you to make sure everyone receives the same training information so employees are accountable for their responsibilities.
Outsourced Lead Searches
Finding a valuable lead can be a time-consuming endeavor. Instead of falling down the internet rabbit hole, streamline your process by hiring an outsourced lead generation service.
LeadJen offers first-rate SDR services, so you don't need to worry about finding legit prospects on your own time. LeadJen selects leads based on your company's specifications, and charges on a month-to-month basis, so you never have to worry about big annual fees.
Sales Trends 2021: The Time is Now!
With these new sales techniques in your back pocket, it's time to jumpstart your 2021 sales strategy. More than ever customers are looking for personal, high-value, and streamlined services, and with a few simple upgrades, you'll be ready to exceed their expectations. It's time to get to work! Contact us today to learn more about our services.