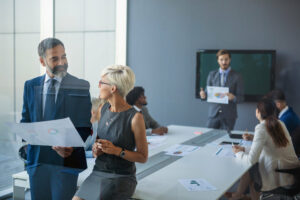 How Do I Outsource My Sales Team? 4 Tips for Getting Started
Your business is ready to grow, become more efficient, and enter new markets – but how do I outsource my sales team? To realize your growth, efficiency, and expansion plans, you must rely on outsourcing sales. When you outsource your sales function, you give your business a new lease on life. Many business owners think that outsourcing is best suited for IT development and call centers only, but it helps every business grow.
Outsourcing sales helps businesses create positive disruption by including emerging technologies like CRMs. When you decide to outsource your sales team, you accelerate speed to market, drive innovation, improve business performance, and enhance user experience.
However, making the decision of outsourcing the sales function can be tricky. You may ask: how can I use outsourced b2b sales in a way that helps me get the best bang for my buck? Fear not. In this blog post, we're sharing tips to help you get started with outsourcing your sales team. Let's get rolling.
Tips on Outsourcing My Sales Team
Outsource for a specific role and not for a task
Instead of thinking about outsourcing as a way of shifting certain tasks, think of outsourcing as a way of bringing a new resource. Look for an outsourcing partner that can give the resources to match a particular role such as a sales development rep (SDR), salesperson, or lead qualifier. Rather than getting overwhelmed with different tasks an outsourcing company or person can handle, it makes sense to outsource for a specific role.
Follow a strict hiring process for outsourcing
You can't just pick any outsourcing company because you've read and heard good things about it and give it the job. An outsourced sales team will represent your business and will be an extension of your company. That's why you have to check the team's credibility, culture, and skills like the way you'd do while recruiting an employee. Outsourcing a sales team overseas may be cheaper, but American outsourced sales teams provide a home turf advantage that helps open up customers and close deals.
Check the credentials of an outsourced sales team
This is quite similar to the step above. When you outsource your business's sales function, you hire a company and not a single individual. That's why you should take time to think about the structure of the company and the future feasibility of the relationship with an outsourced sales partner.
First, check online reviews from multiple but credible sources to find customer feedback for the outsourcing partner. By analyzing the feedback, you'll know whether the outsourced sales team has satisfied its customers in the past and has good references.
Besides checking online reviews, you'll have to see whether the team's sales process and mission align with your goals. Further, determine how these processes are regulated; are they concrete and proven to work? Analyze the outsourced sales team's technology stack, too—is it an updated one? Once you've answered these questions, you'll know whether an outsourced sales company will be a dependable strategic business partner.
Bring the right sales team on board
Unlike an internal team, an outsourced sales team will generally operate remotely. Once you've shortlisted a few sales contractors, you'll make the final decision depending on how you feel about the company and whether it'd be an asset to your company.
One tip: Don't get bogged down with the contactor's locations. Thanks to a range of project management tools, communication channels, and productivity software, you won't even notice any time-zone difference—if there's any. If the sales outsourcing company is doing its job right, then the contactor's location and business hours don't matter.
LeadJen: The search for outsourcing your sales team ends here
How can I outsource my sales team quickly and effectively? At LeadJen, we have become a trusted partner for businesses that aim to expand their footprint in new markets and boost their revenue. By outsourcing their sales function to us, businesses have reduced their costs, improved efficiency, and minimized headcount. Our SDR teams enable clients from different verticals to get the best sales-qualified leads.
In a work from home environment, finding sales talent can be challenging. We have experienced SDR teams that'll be quickly outsourced and will start generating sales for your business in a matter of weeks. Our processes have helped many marketing and corporate sales teams drive more revenue. We have the market intelligence and proven methodologies to help clients set up a robust pipeline for discovering growth opportunities.
Thanks to our expertise-backed experience, we've helped clients from different verticals including financial services, retail, healthcare, manufacturing, high tech, and life sciences meet their aggressive sales goals. Ready to outsource your sales team? Get in touch with our team by visiting our website or setting up a call and discover how we can be your strategic partner in helping you achieve your growth goals.