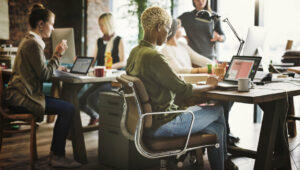 Returning to the Office: What Your Sales Team Needs
After a year working from home, it's finally time to start returning to the office. Although your office might have cushy chairs and high-tech tools, your team may be reluctant to ditch their sweatpants and easily-accessible snack cupboard at home.
Although working from home was a challenge initially, many employees have adapted to their new routines and habits. Ushering your sales force back to work will involve empathy, flexibility, and clarity. It's all about keeping the conversation flowing, so everyone finds a solution that works for their safety and fulfills your expectations.
Create a Comprehensive Plan for Returning to the Office
Over the last year, we've all had to practice flexibility. If the COVID-19 pandemic has taught us anything it's "don't' fall in love with your plan." This being said, it's vital to create a comprehensive plan to share with your employees before they return to in-person work. This way, you'll all be on the same page when it comes to safety protocol and employee expectations and can adapt to accommodate unexpected circumstances. Make sure you include options for at-risk employees, flexible sick day policies, and consider implementing a staged return.
Offer a Hybrid Mode to Start – Instead of requiring all employees to return to the office full-time, offer them the option to work from home a couple days a week. This way, they'll be eased back into their work routine. For at-risk employees, such as employees with underlying health conditions, offer them the option to continue remote work until they feel comfortable returning to an office environment.

Outline Clear Safety Protocols – Whether it's a mask policy, vaccine requirement, or COVID-19 testing schedule, let your employees know you are taking the necessary steps to prevent the virus from spreading in the workplace. Emphasize these policies by providing informative literature and signage in the office.

Be Generous with Sick Days ­– Don't make employees feel worried about taking a sick day! It's best for everyone involved if workers stay home and rest if they are feeling under the weather. If they're only contending with a minor illness, consider allowing employees the option to work from home instead of taking a full sick day. It's important to encourage proper social distancing to keep everyone healthy!

Update Your Sales Strategies
Transitioning back to the office isn't just about sick days and mask policies. You also need to consider how your company can adapt to meet new customer demands and sales trends. With businesses struggling to stay afloat after the impact of the pandemic, it's more important than ever to implement a personalized approach to sales.
Prioritize Calling Customers Directly – Don't rely on e-mail blasts and social media campaigns alone! Get back to the basics and reach-out to clients directly by phone. Phone calls are a perfect way to make a personal connection and still be socially distant. Now more than ever, customers are responding to companies that offer a personalized touch, and a phone call is a great place to start.

Identify Sales Trends – Adapt your sales strategies to meet consumer demands. Use tools like AI (artificial intelligence), social media, and value-based selling to keep customers engaged and interested in your brand.

Be Transparent with Health and Safety Policies – Health and safety protocols are important for customers as well as employees. Whether it's safe product shipping and handling practices, or in-store mask requirements, let your customers know how you are adapting to meet health and safety guidelines.
Provide the Best Tools for Employees
When your sales team returns to the office they may be leaving behind an ideal set-up at home. Consider updating technology and office equipment to provide your sales team the tools they need to excel. This will boost morale and demonstrate how much you value your employees!
Update Furniture – Old desk chairs need of a face lift? Make sure you're offering employees supportive, comfortable furniture so they feel right at home when they return to their desks.

Install New Technology – Pandemic or not, it's always a good idea to keep up with the latest in sales technology. Updating programs like scheduling software and virtual document signing software will keep your company flexible so employees succeed remotely and in the office.

Use a Lead Generation Service – Finding sales leads can be a time-consuming process. Instead of wasting time chasing unproductive leads, use a lead generation service so your sales force can focus more on closing deals. LeadJen offers outsourced SDR services with a personalized approach. Work with LeadJen's team of professional sales development reps to find qualified leads on a budget that works for you – contact us today.
Returning to the Office Starts With a Focus on Teambuilding
Last, but certainly not least, prioritize teambuilding. Employees might be feeling distant after a year spent working alone in their home offices. Plan activities, meetings, and trainings oriented around reconnecting and forming a cohesive sales team. Show your team you empathize with the challenges of transitioning back to work, and create an environment where employees feel valued and supported as they return to the office.